In this we argue why we think activity should again rebound sharply once lockdown restrictions are eased.  The key to how sharply activity can rebound is: (1) will people feel confident to resume activity; and (2) have household and business balance sheets been sufficiently insulated from recent outbreaks? There is good reason to answer 'yes' to these questions.
1. How confident will people be to reuse activity as restrictions ease?
Re-opening thresholds have been set at a high rate of 70-80% full adult vaccination (defined as 16 years +). To put that into context, the UK's Freedom Day in late July where most restrictions were eased occurred at 68.3% adult vaccination (that rate has now lifted to 78.2%). With vaccinations severely weakening the link between cases and hospitalisations, we think people will be willing to resume activity once restrictions ease.
2. Have households balance sheets been insulated from pandemic impacts?
Much has been made comparing government stimulus at the height of the pandemic last to year to that available now. Our analysis shows the amount of stimulus is lower, but balance sheets should overall be buttressed. Difference are:

(a) the main payment for the loss of hours is being paid directly to individuals, rather than via businesses as was JobKeeper. The COVID-19 Disaster Payment is paid at $750 a week for those who have lost more than 20 hours, and at $450 a week for those losing 8-20 hours. JobKeeper was also paid at $750 a week ($1500 a fortnight). In terms of comparing recipients to last year there are 1.7m receiving the disaster payment versus 3.3m on JobKeeper at its height. That comparison is unfair given only NSW, ACT and VIC are in lockdown. In NSW there are 0.95m people compared to 1.2m on JobKeeper at its height.
(b) those on unemployment benefits are not receiving the same large top up in benefit payments as last year. The JobSeeker Supplement at its height in 2020 paid an extra $225 a week to those on benefits (the unemployment baseline benefit was then around $255 a week). The JobSeeker rate is now $283 a week with a $200 a week top up if they lose eight hours of work. Only 128k people are receiving the top up, compared to 1.6m last year at the height.
(c) other key support measures last year repeated this time are mortgage and rent deferrals. There is no update yet, but at its peak use in May 2020 11% of home loans were being deferred. APRA recently wrote to ADIs allowing 90-day+ deferrals to not be counted as arrears. The other large-scale support last year (financed by households) was the ability to withdraw a maximum $20,000 from superannuation with total drawings amounting to $36.4bn. That ability to withdraw from superannuation has not been repeated.
Chart 1: Government support during the current lockdowns in ACT, NSW and VIC is similar for those who have lost hours. However, additional support is substantially less for those already receiving government benefits.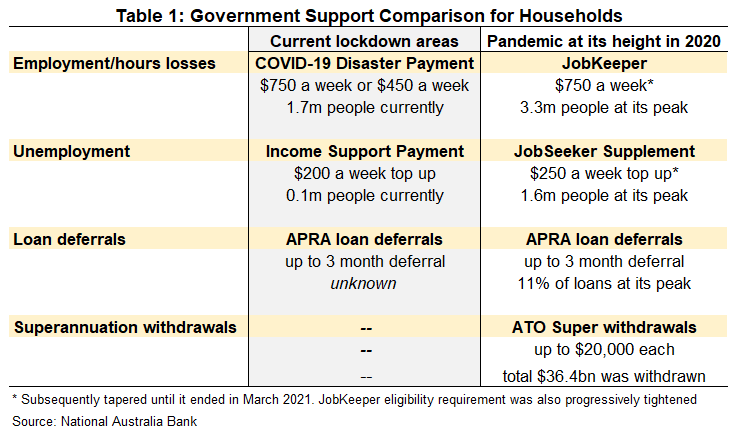 Chart 2: Activity rebounds when restrictions are eased. Note the UK has now fully vaccinated 78.4% of its adult population, the US is at 63.3%. Australia is set to reach 70% by October and 80% by mid-November according to our forecasts.