Challenging macroeconomic conditions and geopolitics have negatively impacted the deal-making sentiments globally. Against this backdrop, a total of 4,188 deals (comprising mergers & acquisitions (M&A), private equity, and venture financing deals) were announced globally during August 2022, a decline of 16.5% compared to the previous month, says GlobalData, a leading data and analytics company.
An analysis of GlobalData's Financial Deals Database revealed that the deal volume during August 2022 was also down by 32.8% and 25.2% compared to the monthly average of Q1 and Q2, respectively.
Aurojyoti Bose, Lead Analyst at GlobalData, comments: "Rising inflation is a major concern worldwide, impacting investor sentiments. Geopolitical tensions also seem to be taking a toll on the cross-border deal activity. While most of the key markets are registering decline in deal activity, several of them are experiencing a double-digit month-on-month decline and witnessing new lows in deal-making."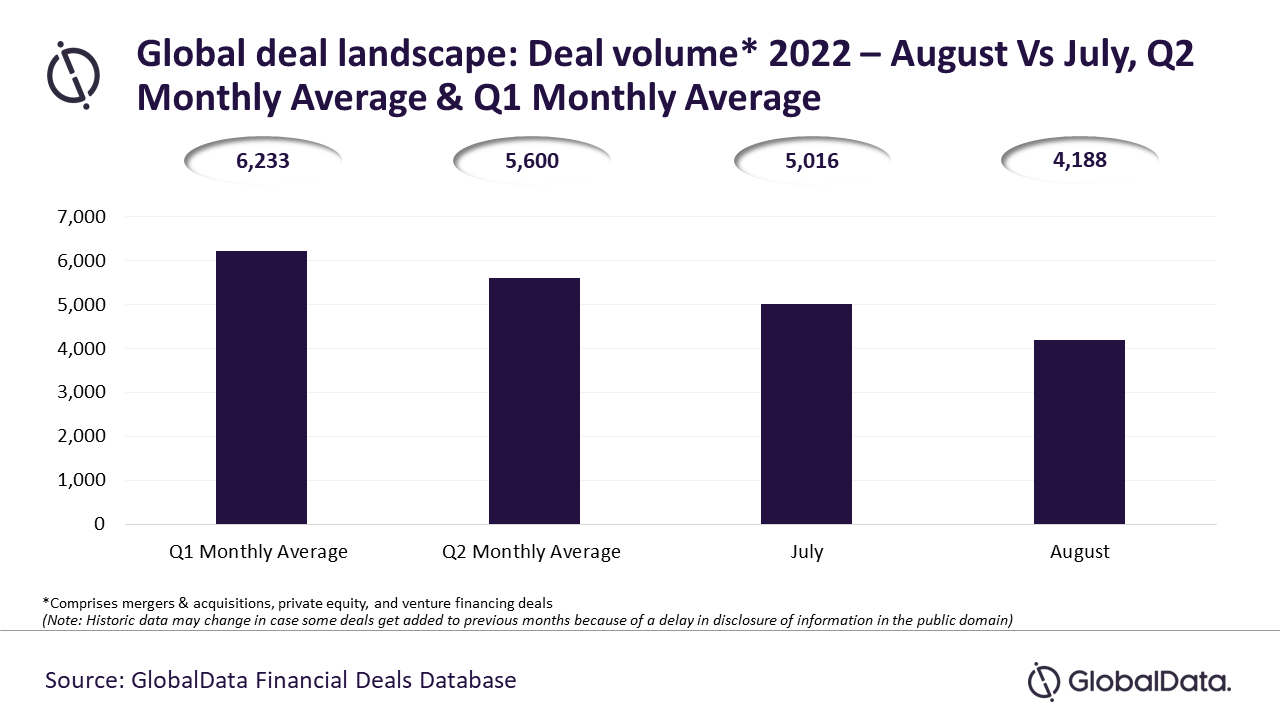 China, the UK, Canada, Japan, Germany, South Korea, France and Spain witnessed a decline in deal activity by 19.6%, 14.6%, 22.4%, 12.4%, 25.3%, 33.1%, 77.9% and 71.3%, respectively, in August 2022 compared to the previous month.
Aurojyoti Bose says "all the deal types (under coverage) also witnessed double-digit decline in deal volume in August 2022 on a month-on-month basis. The number of private equity, venture financing and M&A deals decreased by 16.7%, 10.7% and 20.8%, respectively."